3 Easy Ways to Convert Handwriting to Texts on eReader for Free
Notability and GoodNotes are famous for their handwriting recognition bundle. iPad can recognize handwritten texts since iPad OS 14. And OneNote from Microsoft has offered conversion services for a long time. That's to say, converting handwriting to texts is an essential feature for most advanced note-taking apps and gadgets.
Besides the mentioned devices and apps, BOOX E Ink tablets can also convert handwriting to texts for free. Whether you're annotating ebooks, writing notes or reading scanned texts, you can change them to texts for further application.
How to Convert Handwriting to Texts
There're three ways to changing handwriting to texts on BOOX.
Double Tapping in NeoReader
If you are accustomed to taking notes on the ebooks, you will find the double-tapping conversion feature helps organize notes. When double-tapping handwritten texts in the default BOOX reader, NeoReader, you can convert them into typed texts for a clearer view.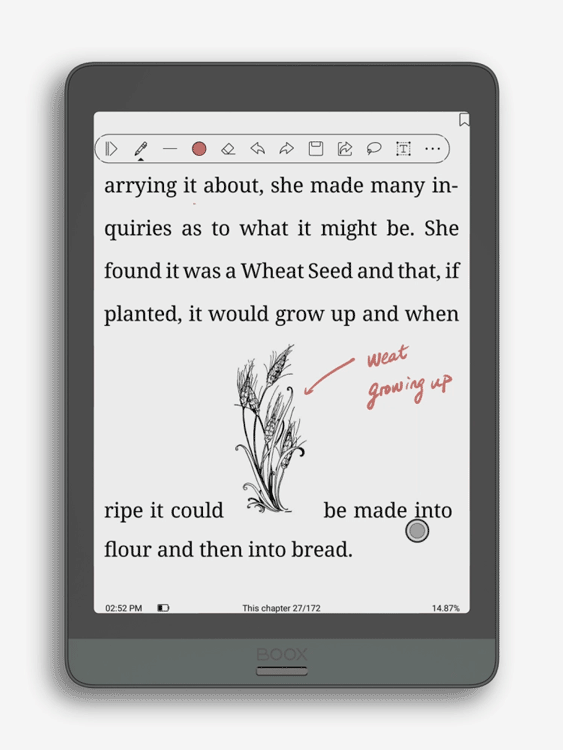 How to enable the double-tapping feature in NeoReader? Here's the instruction:
Open a book and tap the center to call out the top menu.
Tap the three-line button and tap Settings.
Choose Handwriting Recognition Settings and check the box "Enable auto-recognition by double-tapping onto handwritten notes."
In addition to recognizing handwritten texts, BOOX can also convert shapes and lines.
Use OCR to Convert Handwriting on Images
OCR is also available at BOOX NeoReader. When you open a scanned book or an image with handwriting words, you can use the built-in OCR to convert them into texts. So you can copy the texts, highlight the phrases, and look up a specific word within the built-in or third-party dictionary popups.
Using OCR is intuitive in NeoReader. When NeoReader detects handwriting notes in the pages, a notice will automatically pop up to remind you OCR is ready. Then you can tap the OCR button on the top to enable the feature which is available 15 times a day for free.
The default Notes app in BOOX digital paper tablets also supports handwriting conversion. Unlike double-tapping and OCR in the NeoReader, there's an "AI" button in the Notes dedicated to text recognition.
You can choose from two conversion modes. The Original Recognition will maintain the layout of the notes and convert texts in their original places. Whilst the Reflow Recognition will step further. It will organize the converted texts into a sequence to make them neat.
You change the language after conversion. Also, you can edit the recognized texts in the reflow mode. To facilitate transformation, you can enable Background Recognition in the Notes app.

All BOOX E Ink tablets offer the double-tapping and OCR features. Also the eReaders supporting styluses can offer text recognition in Notes.
BOOX devices, including Max Lumi, Note Air, Note3, Nova3, and Nova3 Color, are available at our store with a full set of free accessories.
Our latest, powerful large-sized E Ink tablets.
To create delightful reading and writing experience.
Do better in study, work and life.