Unveil BOOX Note Air: The Thinnest 10.3'' E Ink Tablet with Front Light
Functionality Is Not Compromised by The 5.8mm Thickness
Note Air is only 5.8mm thick.

What does it mean?
It means the adjustable front light, a responsive system thanks to the upgraded octa-core CPU, large storage of 3GB LPDDR4X RAM and 32GB eMMC ROM, dual batteries accounting for 3000mAh that can be charged fast with QC4.0, a quality built-in speaker, a mic, a USB Type-C port, and a button.
As you can see, we pack almost all the powerful stuff into a body of 5.8mm thickness. So you get a Note Air that is slim, but also snappy, power-efficient and versatile. Not to mention it becomes more intelligent with Android 10 and the up-to-date BOOX V3.0 Firmware.

With Note Air, you can do almost everything. Read ebooks and directly annotate on them. Do multitasking with the split-screen mode. Take notes and create works on layers with the new pencil and marker pen and other powerful tools. Sync notes to the cloud and other devices. Install third-party apps — and enjoy more emerging new features.


While doing the above stuff, you also get a comfortable, clear view on the HD E Ink Carta screen with a resolution of 1872×1404 and 227dpi.
Ergonomic Balanced Design Meet with Unconventional Colorways
You can see Note Air at first glance in an array of E Ink tablets because it's slim, unique, and chic.
The wider bezel is crafted to contain screen FPC (Flexible Printed Circuit) on the side, but it's also designed to give you an extra grip on the device. As the gravity is shifted to the palm, you can hold the tablet effortlessly.

The other three equally wide bezels show balanced aesthetics. When rotating Note Air horizontally, you will find the edges add a hint of balance on your visual and help you focus on the screen center.


Color. Another factor that makes Note Air unique.
Turning it to the back, you can see the delicately arranged orange lines come across and then bump into the new navy blue background, rendering a refreshing scene.
Adding an unconventional sense with colors is a bold move of Note Air.
Initially, BOOX team intended to make a slim version in the Note line. We changed the structure, the shape, the thickness. And we managed to put as many advanced components into Note Air.
In the end, we decided that E Ink tablets can be powerful and chic.
If we have revolutionized almost everything to provide you with a thin, versatile product, then we should also share with you the passion for changes, so you can feel it on the case.

To build out the slim and solid structure of Note Air, we used to be torn between two techniques, but at the end we didn't go with the splicing way.
There was a reason.
The splicing technique is to joint the screen and the frame together horizontally. Such a combination shifts most of the gravity to the larger screen. When you hold the device by the frame, the screen without enough support has a potential downward displacement.
That's to say, such a frame-connecting-screen way can be a large threat to the expensive, fragile E Ink screens.
We didn't want to put our users' interest at risk, so we chose the higher-cost structuring way that can provide large support to the screen and make the thin device more solid.
We carefully machined a one-piece aluminum case to hold the flush EPD module consisting of several layers, including an anti-glare (AG) glass cover-lens. This method promises that the force on Note Air will be evenly dissipated, so Note Air can be both ultra-slim and rigid.

Improved Experience with G-Sensor and BOOX Pen
Have you ever seen a 10.3'' E Ink tablet that employs a gravity sensor? You may say no until you see Note Air.
As Note Air is slim and adopts the one-hand holding design with one broader bezel, the G-sensor can make it even handier. With the automatically rotating feature, you can pick up the Note Air and start using, no matter you are left-handed or right-handed.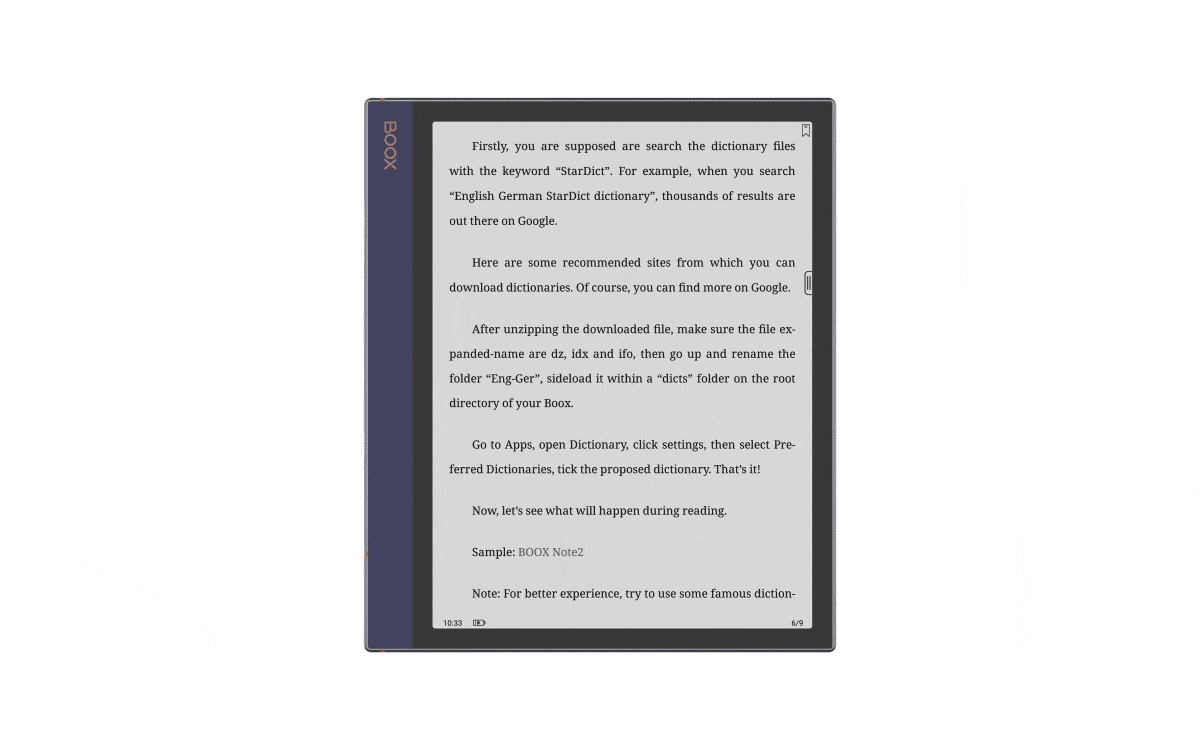 Also, to match Note Air's aluminum case, we made a specialized magnetic stylus, BOOX Pen.
Although it also features 4096-level pressure sensitivity, the smaller, stiffer nib of the Shinonome GII refill can better mimic the real handwriting feeling and help you create richer details.

BOOX Pen also has a different design. The grooves on the body can increase the fiction on the fingertips. Together with a large diameter of 9.5mm, BOOX Pen can give you a sturdy grip.
When you stop using it, just snap it to the side of Note Air's aluminum case.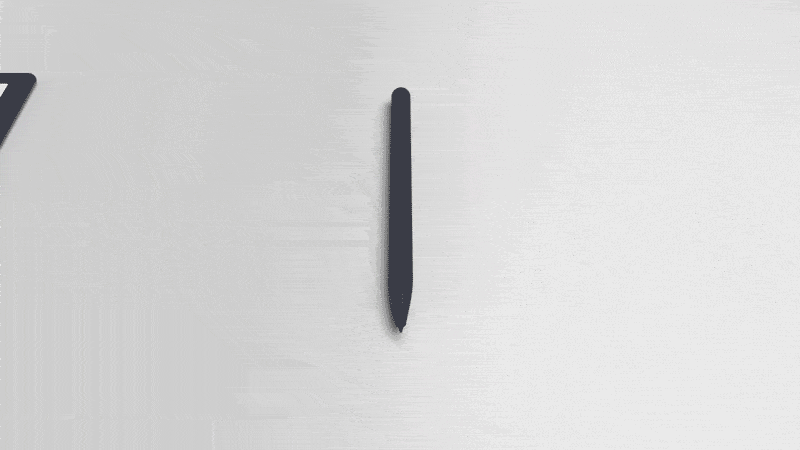 Android 10 and V3.0 Firmware
Like Max Lumi, Note Airs run the more secure and compatible Android 10 and the most up-to-date V3.0 Firmware.
With the latest firmware, you can not only read, write, and draw on Note Air, but also uses many fantastic new features to boost productivity.
The system-wide split-screen enables two apps to run on one display to double your efficiency.
New NeoBrowser allows you to adjust web font size and get a better view with the full-screen mode and scrolling buttons.
And the full-screen gestures can help you switch tasks, go to the home page and take a screenshot with a swipe.
There're way more surprising functions of the V3.0 firmware awaiting exploration.

Our latest, powerful large-sized E Ink tablets.
To create delightful reading and writing experience.
Do better in study, work and life.